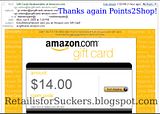 That's right,
Points2Shop
has delivered for me again. Not that long after I had them send me a $20 prize, I requested a payment of $14.00 in the form of an Amazon.com gift card. Well, there it is. The bonus is that in the time that I was waiting for that gift card, I've got enough to claim another $17.00 on top of the 857 points I have! (that's $8.57 that I can spend on Amazon.com) Geez, I really feel like this couldn't be any easier to join up with. The site gives detailed instructions on how to complete offers and they've got a great support staff that answers questions quickly and follows through. They also keep improving the site.
Oh, and I've probably never mentioned this before, but for those of you not interested in getting free stuff from Amazon.com they've got a sister site that you can switch to to get straight cash money! It's called
Cashle
and you can switch over at any time. If that's not enough to pull you in then I really don't know what is. I've already made over $100 on this site (getting close to $150 total, you can see so for yourself below) and it only seems to be increasing everyday. So, please check it out if you're at all interested in free money and best of luck to you. I hope you make tons of money to help you out with bills and whatnot.